Who We Are
We're committed to ensuring every driver and vehicle on the road has access to advanced transportation technology and accurate data to guide their business and family safely, efficiently and reliably, every mile of the way.
Empowering your success fuels us. An innovative culture drives us.
Defining the Optimal Route for Success
Our solutions position our customers and partner — from top-level management to drivers and workers — to succeed by lowering costs, improving efficiency and safety and boosting compliance company-wide.
Miles Ahead in Industry Expertise
We are as committed today to pioneering innovative technology to solve important industry challenges as we were 35 years ago.
Mapping the Way for Transportation Innovation
Tools in hand, we are hard at work building and maintaining the map network you traverse everyday — street by street, community by community, address by address, mile by mile.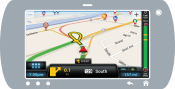 Navigating New Roads to Fleet Efficiency
Our commercial vehicle solutions are relied upon by transportation, logistics, manufacturing and mobile workforce management fleets of all sizes worldwide.
Trimble MAPS is a division of
Trimble is transforming the way the world works by delivering products and services that connect the physical and digital worlds. Core technologies in positioning, modeling, connectivity and data analytics enable customers to improve productivity, quality, safety and sustainability. From purpose built products to enterprise lifecycle solutions, Trimble software, hardware and services are transforming industries such as agriculture, construction, geospatial and transportation and logistics. For more information about Trimble (NASDAQ:TRMB), visit: www.trimble.com .